Saturday : Let the show begin !
"Oh I can't waiiiiiiit... for saturday toooo begiiiiiiinnnnn...", says Cunnie Williams in his not so famous single. After the heavy rains of the last few days, it became our motto. And finally, saturday began ! the rivers were flooding, the sun was back and the boats were strapped on kayakers' cars... There was something special in the air saturday on the wave. Last time we saw it at such a high level was one year ago ! Since then, we could "only" play on the right channel.
So, we had no choice but to celebrate this long awaited day ! And that's what we did...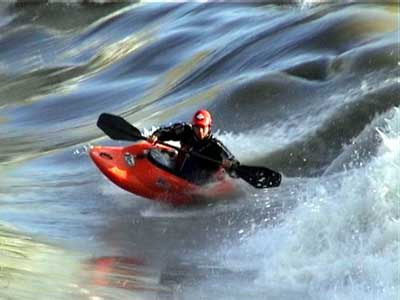 Here's a general view of the left channel, which works only at high waterlevels. The good thing here is that you have eddy service.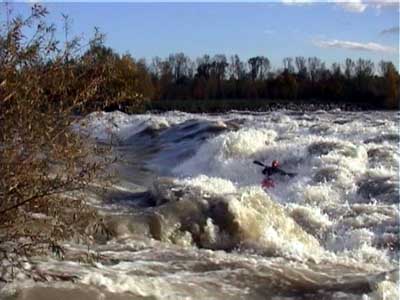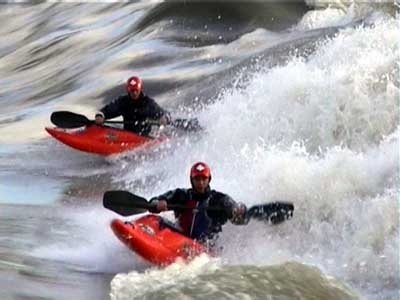 At this level, two people can play at the same time in the wave. However, one will have to go play in the big foampile while the other is flying like mad on the glassy part... This foampile is interesting to play, a little intimidating to some, and above all very demanding, physically speaking. BTW, no photoshop trick on this image, just my brother and I, with a pretty similar look... Next time we'll order different colors for our boats !
We could finally test our new Riot Turbos 52 at home. What is amazing with this boat is how fast it is, and the visual amplitude it gives to every move you perform. But still, it's a little shorter than a disco ! In a static front surf, it will bounce a little less than a Air or a standard spud boat. But if you combine a bounce with the incredible speed you can get with the Turbo, in the end you will get better aerials and above all better feelings !
And of course, the Turbo carves really well !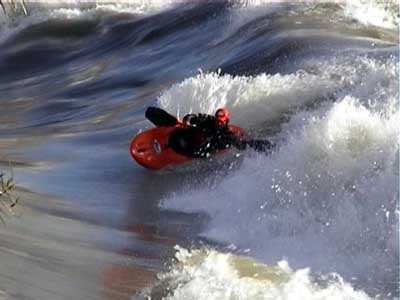 David enjoying a good carve
At high waterlevels, the Lyon wave is faster than any other wave I've surfed. The Lachine waves in Montreal are sometimes as high, but in no way as fast and hard as in Lyon.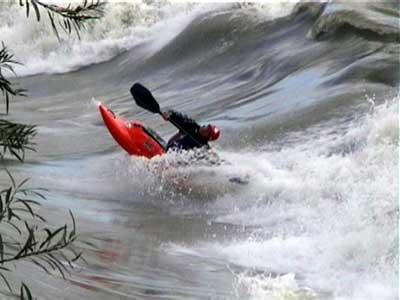 David ready to take off.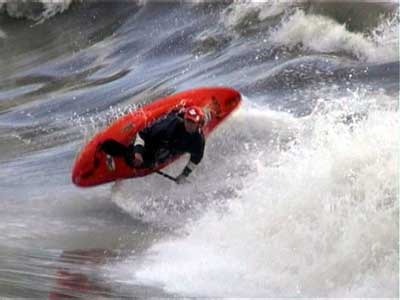 Sylvain flying high.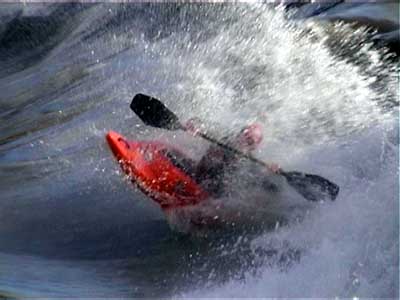 Here in the background, the wave breaks in a strange way ; this is the kind of thing I only see in Lyon. Look closely at the 2nd and 3rd pic, it looks weird, as if the water was coming from downstream.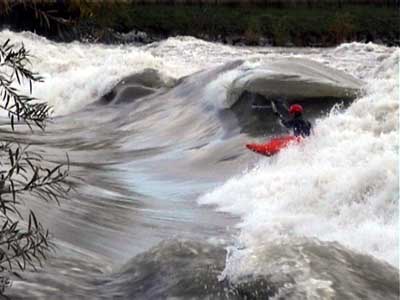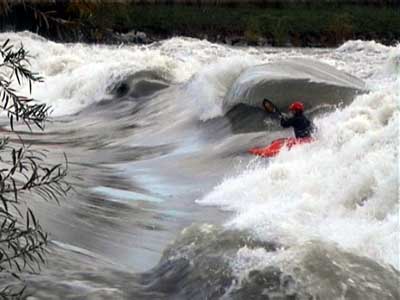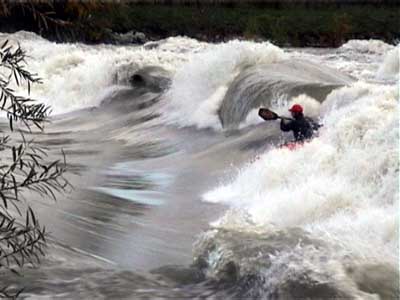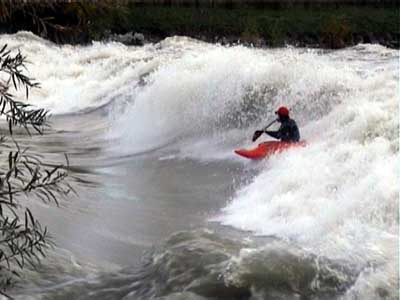 Finally, a word to thank the people who held the camera while we were having fun on the wave !
The best was still to come however ; soon, a report + amazing pics about our Sunday at the wave !
Enjoy !
David Arnaud